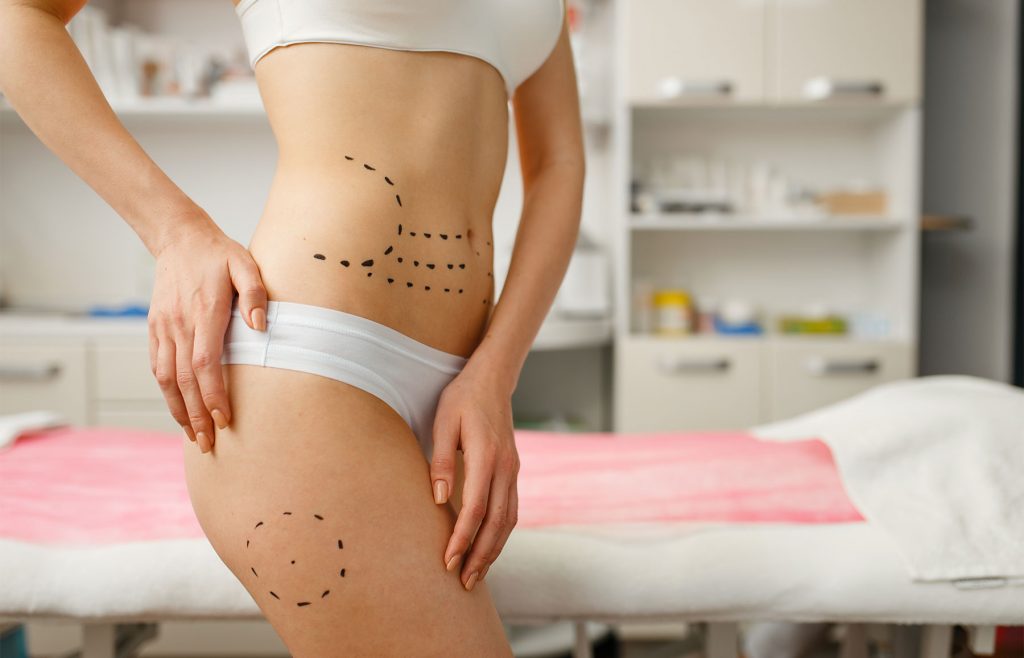 What does the Mommy Makeover include?
Generally, some of these procedures can be safely combined. Typically, the patient is discharged the day after the intervention to be able to recover at home or, if traveling, stay in our Recovery House.
During abdominoplasty, the surgeon makes a horizontal incision just above the pubic area, extending it towards the bones of the head, always taking care that the incision is as hidden as possible.
Afterwards, the surgeon removes the excess skin and adjusts the abdominal muscles to achieve a flatter abdomen and a greater curvature at the waist. The key to optimal aesthetic results is not only to repair or remove excess skin, but also to create a internal concept by the patient's own musculature.
Subsequently, it is sutured and a cutout of the umbilical scar is made to give it a more aesthetic appearance.
The second stage in this procedure includes breast surgery, this can be done through an augmentation with the placement of breast implants, a breast lift only or a combination of both to achieve female breast augmentation and lift.
Recovery from a Mommy Makeover
The abdomen will be swollen and with some tolerable discomfort, even in some situations it is normal to perceive the abdominal skin numb or numb
These symptoms will improve over time, the use of a compression garment is important to minimize swelling and support the recovering tissue.
The chest will also be swollen and tender, these discomforts are typically very well tolerated with the help of medications taken for pain, the use of a compression bra will also be necessary.
A break of two to three weeks is usually required to resume strenuous physical activity, especially heavy lifting. It is important to make the previous preparations to be able to carry out an adequate recovery period, moderate physical activity is recommended as soon as possible to reduce the risk of developing a clot in the legs.
A close follow-up will be carried out by BMS certified Aesthetic Surgeon, who will be available to answer any questions you may have.
The goal of a mommy makeover is to restore the shape and appearance of a woman's body after childbearing. Many women notice changes in their bodies post-pregnancy. There are many areas of the body that can be addressed, most commonly the breasts, abdomen, waist, genitalia and buttocks.
A mommy makeover is typically performed as a single-stage procedure. There are many techniques used to perform a mommy makeover, and many factors should be taken into consideration when choosing which techniques are best:
Desired amount of restoration
Placement of the incisions
Type of implant used